before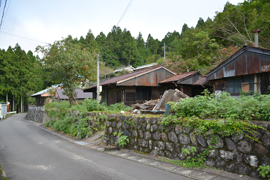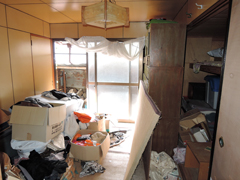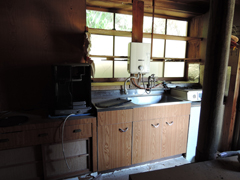 Photo of the construction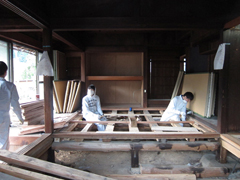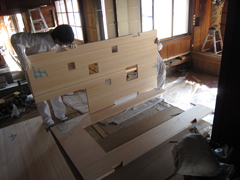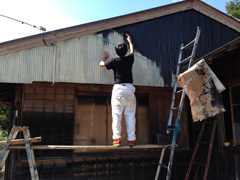 三重県熊野市の山中にある300人ほどの集落・神川町神上。
そこの古民家・空き家を改修して、地域での活動を円滑にするための拠点へとつくりかえるプロジェクトである。
近畿大学佐野研究室の学生たちと考え、設計から施工までを行った。
古民家に熊野産ヒノキで組み上げたボックスを挿入することで、田の字型プランを再構築し、新たな動線と空間を生み出す。
ヒノキのボックスによって、民家の天井や床などの部分が強調され、今までとは異なる印象を我々に与えてくれる。

このヒノキ材は、学生たちと考案した独自の工法により、釘やビス、接着剤を使用せずに組立ている。
タタキの土間は、地元の土と農業用の肥料などを混ぜて自作した。
キッチンはインターネットで既製品を取り寄せて組み立てたし、その背後のカマドは使えるように掃除・補修を行った。
この建築の名称は、神上(こうのうえ)にある家(いえ)=《コウノイエ》。
ロゴデザインも自分たちでデザインしている。
ふすま絵「山に抱かれる者たち」はアーティスト町田藻映子による制作。

The village of about 300 people in the mountains in Kumano-shi, Mie pref,Japan.
The project which is re-formed to the base to repair an old private house.
Even I designed and built with students in Kinki University Sano laboratory.
This is the base to carry on activity in the area smoothly.
The box we made an old private house with a hinoki made in Kumano was installed.
A plan in a Japanese old private house was reorganized and new line of flow and space were made.
A part of the ceiling of the private house and a floor is emphasized by a box of a hinoki.
I receive different impression that we're so far.
This hinoki box is being made with the original method of construction contrived with students.
Without using a nail, a screw and glue, it was put together.
A pit of mince mixed and wrote by itself local dirt and a fertilizer for agriculture.
A kitchen ordered and assembled a ready-made article on the Internet.
I cleaned and repaired in order to use a old kitchen range.
The logo design is being also designed by themselves.
A painting on a fusuma is production by Machida Moeko who is artist.