before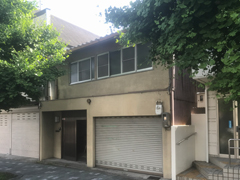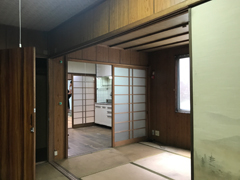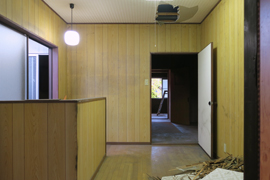 京都市を南北に走る千本通りに面した木造2階建ての住宅を、
ゲストハウス/カフェ/オーナー住宅という複合施設へとリノベーションする。
既存建物は幾度も増改築を経て、道路から奥に向かって並ぶ3つの建物がちぐはぐに繋げられていた。
耐震補強を加えながら、道路側の建物の1階部分を大きく減築し、奥の2つの庭へと風や光、視線が通じる外部空間(路地)をつくった。
路地には緑があふれ、旅行客と地元の人々が集う空間となる。
ロジにあるカフェを横切り、ゲストハウスの玄関に辿りつく。奥の庭で、かつての建物で祀られていた小祠が出迎える。
中に入ると吹き抜けのあるフロント、小上りのある共用ラウンジがある。
2階にあがると、キューブと壁面でできた客室が既存屋根のシルエットの下に配置されている。
建築の内外にある、ロジ、大小キューブ、小上り、壁面、緑といった要素は街並みを想起させ、さながら街並みを散策するような空間となっている。

We renovated the wooden two-story house in Kyoto to a complex facility
(guest house, cafe and owner's residence).
Existing buildings were rebuilt and rebuilt many times, so they had a strange shape.
So we once organized the structure and added structure reinforcement.
And we greatly reduced the first floor part of the building.
By making an alley there, wind, light and sight line have come to the back of the site.
The alley is overflowing with greenery, a space where tourists and locals gather.
Travelers cross the cafe´ in the alley and get to the entrance of the guest house.
There is a small shrine in the courtyard.
This is a shrine worshiped in the former building, we rebuilt.

This guesthouse has a front with a colonnade and a shared lounge with small steps.
Japanese paper is pasted on the wall of the common lounge.
By Japanese paper, soft light fills the room.
Rooms on the second floor are in cubes and walls under the roof of the existing building.
Elements such as alleys, large and small cubes, small steps, walls, and greens
inside and outside the building remind the townscape.
It is such a space as to walk around townscape.