before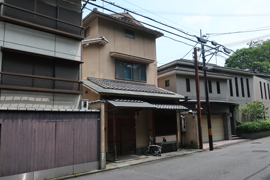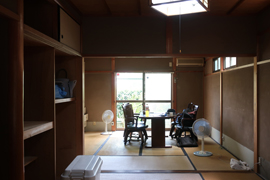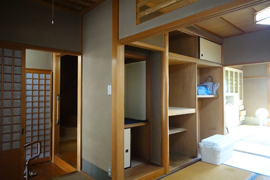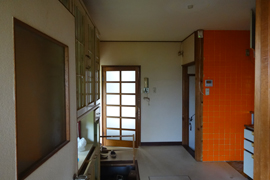 下鴨神社の参道沿い、表は林のような公園で裏は鴨川という
絶好のロケーションに建っている築約40年の木造2階建て住宅のリノベーションである。
この住宅には地下物置とロフトがあり、上下方向に広がりのある空間となる可能性があった。
そこで、地階からロフトまでの4層分を開放し、
内部空間を林側と川側とに2分割する斜めの耐力壁を構想した。

林側は迫るような斜めの壁によって仄暗い篭るような空間で、個人が集中して作業を行う場所とした。
川側は上に広がる斜めの壁と東面からの自然光により上昇感のある明るい空間で、家族が集まる場所となっている。

川側と林側の1階と2階と地下とロフト、それぞれの床レベルは少しずつ変え、
また斜めの壁から微妙に距離をとっている。
床同士は平面方向と断面方向にズレて、ささやかな隙間をつくりだしている。
この様々な方向の隙間が、立体的に配した空間をつなげ、それぞれの明るさや仄暗さを隣接する空間に染み出させる。

それぞれの床を、螺旋をえがくようにして上下し、斜めの壁を境に行き来することで、
空間のボリューム、光と陰の変化を体験することができる。
そのような、いくつもの小さな空間の集合を楽しむ住宅となっている。

This is a renovation of a 40-year-old wooden house built on the approach to Shimogamo Shrine in Kyoto.
It is in a great location with a forest-like park on the front and a river on the back.
It had an underground storeroom and a loft, and we think the possibility of a space that spreads vertically.
Therefore, we considered a wall for a diagonal structure that opens the four layers
from the basement to the loft and divides the internal space into two, the forest side and the river side.

The forest side is a dark and quiet space with an approaching diagonal wall,
making it a place where individuals can concentrate on their work.
The river side is a bright space with a feeling of rising due to the slanted walls
spreading upward and natural light, and it is a place where families gather.

The height of each floor is changed little by little, and it is slightly distanced from the diagonal wall.
This created a lot of small gaps between the floor and the walls.
These various gaps connect the spaces, creating a space where brightness and darkness exude.

We can experience a rich space by moving up and down in the architecture
like a spiral and going back and forth between diagonal walls.
It is a house where you can enjoy a collection of many small spaces.