before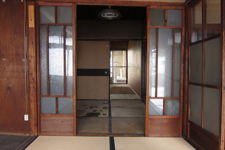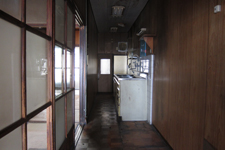 町家を改修してオフィスへと転用するプロジェクトである。
改修前の間取りは、3つの部屋が縦列して並ぶ典型的なうなぎの寝床型の町家であった。
壁や天井を取り払い、大きく吹き抜けた細長い一室空間として、その中にキューブを据える入れ子の構成とした。
キューブにより細長い空間は、通りに面した土間空間、庭に面した白い空間と緩やかに仕切られ、
多種多様な業務を可能とする。
このプロジェクトの町家は賃貸物件であり、借り主が建築費用を負担している。
限られた費用を有効利用するため、仕上げや家具はセルフビルドである。
京都には老朽化した町家が残っている。
その多くは、資金や賃借の関係で有効活用されることなく、空き家のままである。
このプロジェクトはそういった問題に対する、町家再生のモデルケースでもある。

It is a project of the renovation of the Machiya in Kyoto.
(Machiya is a traditional house of the city in Japan. )
Machiya was converted to the office.
We removed the wall and ceiling of the Machiya and have arranged the cube in space.
Long and slender one-room space is vaguely divided by the cube.
Earthen floor space facing a passage and white space facing the yard.
This house is leasehold property.
The borrower has paid construction expense.
In order to use the limited expense effectively, finish and furniture are DIY.
Superannuated Machiya remains in Kyoto.
However, many Machiyas are not used effectively by the relation between funds or lease.
There are many vacant Machiya.
This project is a model case of the Machiya reproduction to a problem.